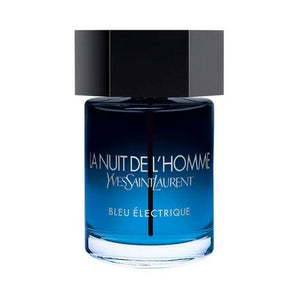 THE ELECTRIFYING FRESH & ADDICTIVE SCENT OF SEDUCTION
La Nuit de l'Homme Bleu Electrique is an electrifying version of an Eau de Toilette Intense. A flash of cool spices and aromatic notes, pulsing a dazzling beam of blue light into the night. A fresher, more intense take of the Eau de Toilette based on a high-voltage blend of cardamom, ginger, geranium, and lavender.
Experience the thrilling shock of an ultra-fresh citrusy accord, highlighting the zesty glint of green cardamom and the cold burn of ginger essence and the match of geranium and lavender. Diva lavender heart, especially crafted for YSL Beauté to magnify its freshest, most floral facets, brings its unique signature to the fragrance.
The sensuous base infuses the scent with a dark oriental richness. Wrapped in smooth amber, smoky vetiver, and cedarwood.
THE BOTTLE: AN EYE-CATCHING BLUE.
The signature bottle of the Yves Saint Laurent la Nuit de L'Homme twisted by an eye-catching color. The amplified electric blue juice evokes the illicit neon light of an underground party.
THE ELECTRIC & THRILLING SEDUCER
You thought you knew it. But do you? The fragrance of the YSL man is just like him. True to its distinctive character, yet always revealing new facets.
A powerful and contrasted scent inspired by the electrifying moment of attraction between two strangers that feel very familiar. Letting them asking, "Don't I know you?"