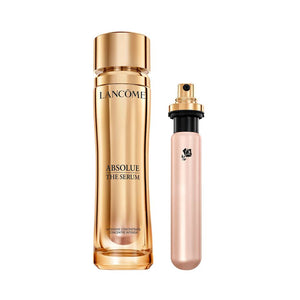 Millions of Perpetual Rose Regenerative Molecules in every bottle. Accelerating Cell Renewal.
Experience our transformative Serum, blooming with radiance at first touch, deeply penetrating and plumping the skin. A sensorial journey that instantly melts into skin for an absolute golden glow. 
 
Formulated with efficacious anti-aging ingredients
Absolue Perpetual Rose Regenerative Modules: Accelerates cell renewal to promote healthy skin
Patented Pro-Xylane: Visibly diminishes the appearance of lines and wrinkles for anti-aging benefits. Redensifies and replumps skin.