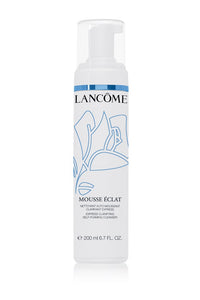 Express Clarifying Self-Foaming Cleanser. This clarifying mouse cleanser water-activates into a rich foam to gently cleanse, revitalize and clarify the complexion.
APPLICATION
Daily, morning and evening.
*Moisten your face with water.
*Apply the cleanser all over your moistened face in light strokes working from the centre of the face outwards, being sure to avoid the eye area.
*Use small circular movements all over the face to cleanse, paying particular attention to the T-zone.
*Rinse with water.
BENEFITS
This light-as-air foam activates with water to create a truly luxurious cleanser. Its fresh formula gently cleanses away makeup and impurities to clarify the complexion, leaving your skin soft, radiant and healthy-