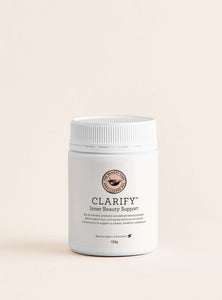 Designed for people prone to skin congestion and breakouts, this clarifying formula contains nutrients that synergistically support a clearer, healthier and smoother complexion. Including herbal ingredients broccoli sprout, burdock, dandelion and echinacea, this delicious bio-fermented blend also contains probiotics and digestive enzymes for gut health. With provitamin A to support cellular turnover, vitamin B5 to support hormonal metabolism and zinc which assists in wound healing–for resilient, clear and healthy skin.
Blend 1 tsp (5g) into 150mL of water or your favourite drink and consume immediately.
Storage: Store below 25°C, away from sunlight in a cool, dry place. Always use a dry spoon and consume within 90 days of opening. Refrigerate after opening.
This elixir is not a sole source of nutrition and should be consumed in conjunction with a nutritious diet and appropriate physical activity.
Children and Pregnant Women: Not suitable for children under 15 years of age or pregnant women. In these cases, the product should only be used under medical or dietetic supervision.
Bio-Fermented Nutrient Blend with Flora Culture™ [(chickpeas*, mung beans*, brown rice*, sweet potato*, lentils*, buckwheat*, quinoa*, millet*, sea minerals, pepitas*, linseeds*, sunflower seeds*, agave*, molasses*, queen garnet plum, ginger rhizome*, lemon juice concentrate, lactic acid starter culture (Bifidobacterium infantis, B. lactis, Lactobacillus acidophilus, L. delbreuckii sub. lactis, L. fermentum, L. paracasei, L. rhamnosus, Lactococcus lactis sub. cremoris, L. lactis sub. lactis biovar diacetylactis, L. lactis sub. lactis, Leuconostoc mesenteroides, L. pseudomesenteroides)), natural colours: turmeric rhizome*, anthocyanins (from black carrot), maqui berry*], dandelion root powder, natural apple flavour, broccoli sprout extract (Broccophane®), mineral: zinc ascorbate, burdock root powder, natural colour: anthocyanins (from red-purple carrot), vitamin: calcium ascorbate, live cultures: Saccharomyces boulardii and Lactobacillus rhamnosus GUT5Y™, digestive enzyme blend (protease, amylase, lipase, cellulase, lactase), vitamin: natural beta carotene, echinacea root powder, cinnamon bark*, sweetener: steviol glycosides, acidity regulator: citric acid, vitamin: calcium pantothenate, antioxidant: ascorbic acid, mineral: chromium picolinate. *organic ingredients