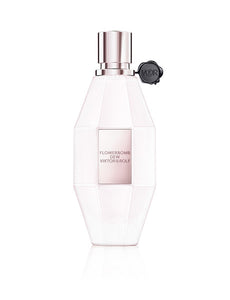 This rose growing in water is infused with transparent morning dew, for a scent that melts in your skin. Envelops yourself with comforting musks, sensual iris to create the most glowy, second skin floral sensation.
Flowerbomb Dew is the new second skin floral facet of Viktor&Rolf's Flowerbomb perfume: dewy and delicate, this eau de parfum makes you reconnect with the essential, and gives you the power to reveal your natural glow, with a pure and transparent sensuality.
A long lasting perfume for women, sensual and second skin, dewy and delicate. The new scent is encapsulated in a slightly transparent pearly white bottle, a new gem in the flowerbomb family by Viktor&Rolf, inviting women to get rid of all the unnecessary, to reveal their power.
EACH NEW DAWN, EACH NEW DAY IS AN OPPORTUNITY TO RECONNECT WITH THE ESSENTIAL.
Notes: Bergamot, Dewy Rose accord, Iris, Musk