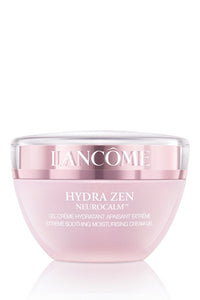 Soothing Moisturising Cream-Gel. Hydra Zen Cream-Gel, enriched with botanical extracts, provides intense hydration for up to 12 hours. Instantly refreshing and deeply comforting, its ultra-moisturising formula soothes, and skin becomes soft, luminous and irresistibly supple.
APPLICATION
Apply to perfectly cleansed skin in the morning. Smooth your moisturising cream over your skin, from the middle of the face outwards (forehead, cheeks, chin). Finish with the T-zone.
BENEFITS
For the first time, the NeuroCalm® complex is combined with botanical extracts in this soothing, hydrating formula. Brimming with moisturizing microcapsules, this delightfully refreshing, oil-free cream-gel hydrates the skin for up to 12 hours. This new formula's smooth, delightfully refreshing texture is ideal for the summer. Intensely hydrated, the skin feels soothed, smooth and supple.