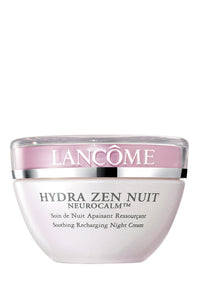 Soothing Replenishing Night Cream. This treatment boosts the skin's natural defences and strengthens it against the effects of daily stress. As soon as it is applied: Your skin is immediately and intensely moisturised, soft, comfortable and soothed. Signs of fatigue built up during the day seem to disappear. In the morning your skin looks relaxed. It is fresher, better moisturised and intensely eased of stress. 3) Night after night: The skin's natural self-defence potential is recharged. The skin feels strengthened against the effects of daily stress.
APPLICATION
Apply to perfectly cleansed skin in the evening.
*Smooth your moisturising cream over your skin, from the middle of the face outwards (forehead, cheeks, chin). Finish with the T-zone.
*Drum fingertips over entire face, from top to bottom.
BENEFITS
The exclusive NeuroCalm™ skin-soothing concept neutralises the effects of emotional and environmental stress on the skin, soothing and replenishing it during the night. Its exclusive combination of plant-based ingredients – French Rose extract, Mu Dan Pi and Moringa – is formulated to protect the skin from the effects of emotional and external stress, prevent the appearance of redness and comfort stressed and dehydrated skin.