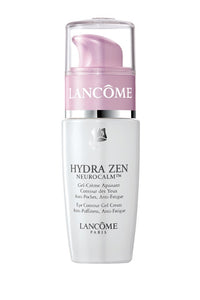 Soothing Gel Cream Eye Contour Anti-Puffiness Anti-Fatigue. A soothing eye contour cream to reduce puffiness and signs of fatigue. Puffiness is decongested and the eye area is intensely moisturised, supple, comfortable and soothed. Signs of fatigue seem to disappear.
APPLICATION
Gently apply to eye area each morning and/or evening after perfectly cleansing the skin.
*Apply the equivalent of a small pearl of product (this is enough for both eyes).
*Gently smooth onto skin just under the eyes and on the eyelids.
*Finish with smoothing strokes over the crow's-feet.
*Gently drum fingertips over eye contours.
BENEFITS
The exclusive NeuroCalm™ skin-soothing concept neutralises the effects of emotional and environmental stress on the skin and soothes the delicate eye area. Reduction of puffiness: Specific active ingredients were selected to promote the skin's microcirculation and draining mechanism in order to significantly reduce puffiness. Intense hydration: Powerful moisturising agents provide intense hydration to smooth dehydration lines.