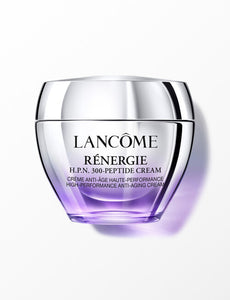 Regenerateskin faster than you age.
Discover the new era of LancOme high-performance anti-aging inspired by regenerative skin sciences. For the first time, LancOme concentrates hyaluronic acid, over 300 types of peptides, and the power of Niacinamide in a one unique cream. In an unparalleled study, the skin of women aged between 40-59 using the cream was measured to regenerate faster, as fast as the skin of younger women.
Results confirmed on all clinical parameters and all skin types, as early as week 1:
BENEFITS
LIFTING EFFECT
Week 1: Skin gains new firmness, and sagging areas start showing significant improvement.
Week 2: Results accelerate with clinical gains in elasticity and plumpness.
Week 8: +27% lifting, +38% firmness, +35% elasticity.
WRINKLE CORRECTION
Week 1: Wrinkles on face and neck become less marked and start to unfold.
Week 2: Skin appears resurfaced with +39% improvement on smoothness.
Week 8: +48% smoothness and -21% wrinkles.
DARK SPOT REDUCTION
Week 1: Proven results on radiance and clinical improvement measured on discolorations.
Week 2: Tone evenness is already significantly improved.
Week 8: -22% dark spots, +22% evenness.
84% of women using luxury creams confirmed they would switch to Renergie H.P.N. 300-Peptide Cream.
WHAT MAKES THE DIFFERENCE
Now in a new refillable design for a more sustainable future.
WHAT ELSE YOU NEED TO KNOW
For face and neck. Tested under dermatological control. All phototypes and all skin types - even sensitive skin.
50ml
Clinical results, 84 women, multiple phototypes and ethnicities.
Self - assessment