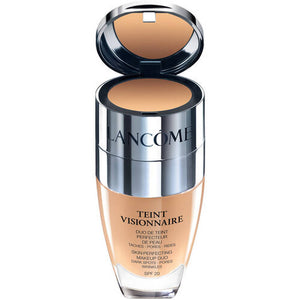 Lancôme® Teint Visionnaire offers two expert steps in one foundation to provide perfect coverage and create a natural, flawless-looking complexion.
Lancôme introduces a new vision of skin perfection, Teint Visionnaire foundation. Lancôme combines two expert steps in one foundation to reconcile perfect coverage and natural finish:
High Coverage Corrector immediately corrects spots, dark circles and all types of imperfections.
Perfecting Foundation enriched with a 2% concentration of [LR 2412], the star molecule of Visionnaire Advanced Skin Corrector,  it works day after day to smooth wrinkles and refine pores, recreating truly beautiful skin.  The coverage is incredibly even, thanks to a new pigment milling process.
From the first application, your skin will look even and flawless. With continued use, your skin quality will be visibly improved, even without makeup -  skin texture feels refined, dark spots and imperfections appear reduced, and pores look tightened.
*Clinical test conducted under the supervision of an expert on 48 women during 4 and 8 weeks.